Saint Rose Life Teen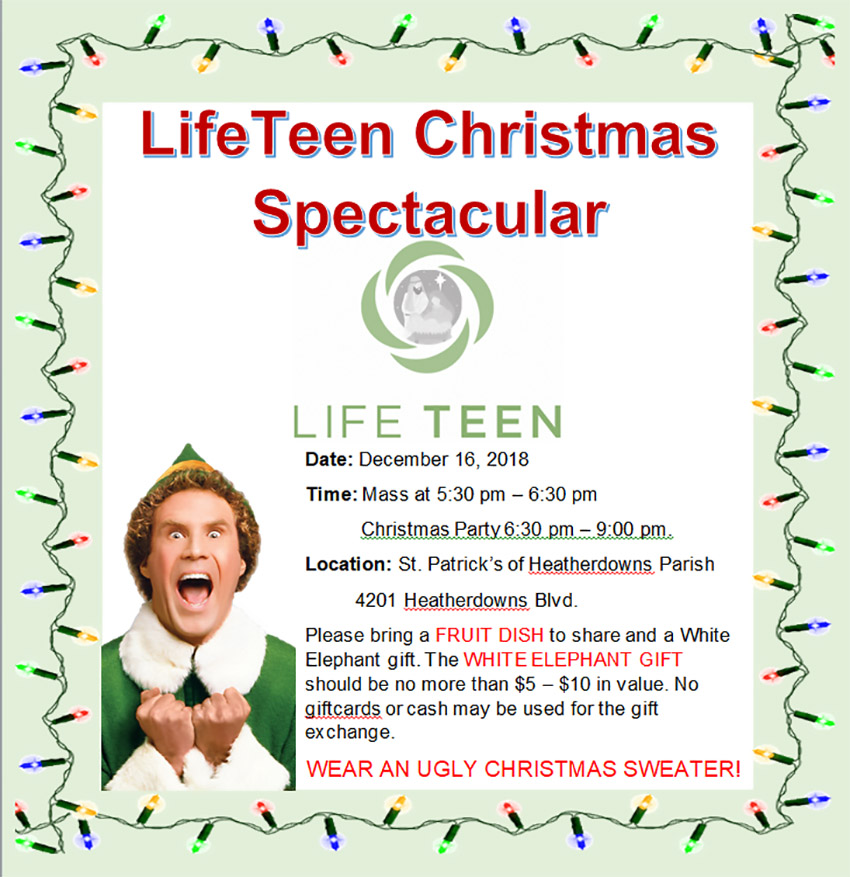 2018 Life Teen Events Schedule
All high school teens are welcome to join us at any Life Teen event. Join us for 5 pm Mass each Sunday, followed by dinner and activities.
Note: Event dates are subject to change
August 26 - Speed Friending
September 9 - Ask the Priest
September 16 - Laser Tag
*Laser Tag Permit form -- PDF
September 23 - Life Night
September 30 - Sports & Games
October 7 - Life Night
October 14 - Saint Canonizations
October 21 - Life Night
October 28 - Halloween Party
November 4 - Life Night
November 11 - Military Salute
November 18 - TBD
November 25 - XLT - at Saint Rose
December 2 - Sports & Games
December 9 - Winter Service Project
December 16 - Christmas Party
Parent Nights: September 23 and November 4
Life Night Theme: Relentless Father
Students who participate in Youth Ministry events are required to fill out a year-long waiver for events at Saint Rose. Off-campus events WILL require an additional form.
Click here to fill out the waiver
Our parish Life Teen program is designed to lead teens closer to Christ! Through weekly "Life Nights," pilgrimages, retreats, service projects, just-for-fun trips, small groups, and opportunities for leadership development, teens at Saint Rose can find a community of their peers dedicated to growing in their faith, while having a lot of fun in the process!
LIFE NIGHTS
Life Nights are the "bread and butter" of our high school ministry program! Teens in grades 9-12 are invited to join us in the JMJ Cafe every Sunday Night after the 5:00pm Mass for food, friends, faith, and fun! Students enjoy dinner together, have some time to socialize and play, and learn more about their faith. Every Sunday includes time with our Lord in the Blessed Sacrament and the Sacrament of Confession is offered on a regular basis on these nights. All teens are invited to join us on Sunday nights in the JMJ cafe! Just follow the signs to the parking-lot entrance of the Walz Center!
PARENT NIGHTS
Parents of teens are invited to join us about once ever two months for a parent night! After enjoying dinner with the teens, our Core Team provides you with the tools and information you need to help your teens come closer to Christ! For more information, subscribe to our parent newsletter.
Contact Tom Hagerty at hagerty@saintroseonline.org if you have any questions.