Becoming Catholic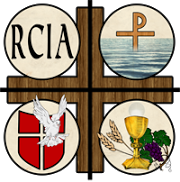 September 18, 2019: RCIA is currently seeking sponsors for our 2019 - 2020 candidates and catechumen. If you would like to share your faith with another, and renew your own, please contact Lyndsey Osterholt at osterholt@saintroseonline.orgASAP!
Is God calling you to become a member of the Catholic Church? Are you a non-Catholic who is interested in learning more about the Catholic faith? We invite you to journey with us in a program of adult faith formation called the Rite of Christian Initiation for Adults (RCIA).
Every year at the Easter Vigil, thousands of adults all over the world answer God's call and are brought home to the Catholic Church through the Sacraments of Initiation. If you, or someone you know, is interested in exploring the possibility of becoming Catholic, the RCIA is the place for you!

For more information, or to sign up for class, please contact Lyndsey Osterholt at osterholt@saintroseonline.org or by calling the parish office (419-874-4559).
[For answers to commonly asked questions about the Catholic Faith, visit Catholic Answers at Catholic.com]
Please join us in the Sacred Heart Center on the St. Rose Parish campus for any or all sessions listed on the calendar link to learn more about becoming Catholic, to explore the Catholic faith, and/or to deepen your knowledge of the Catholic faith.
RCIA is Open to...
• Persons not baptized
• Persons baptized in another Christian denomination but interested in the Catholic faith
• Persons baptized Catholic but have not received the Sacrament of Confirmation
• Persons raised Catholic who seek to learn more about the faith
• Persons who are interested in learning about the Catholic faith and The Catholic Church
• Catholics who wish to serve on the team and/or sponsor a candidate